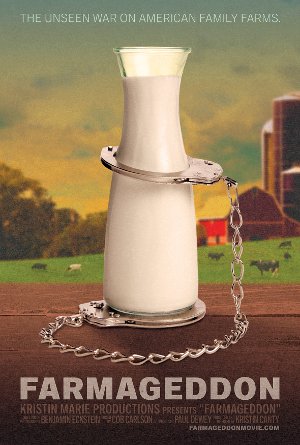 Please join us for Chefs and Foodies Celebration Party with the Filmmaker, Movie Screening and Panel Discussion
Wednesday, July 20, 2011
5:00pm — Party at Jimmy's No. 43 Restaurant, 43 East 7th St.
Enjoy Appetizers: Artisinal cheeses, beer sausages, Shisito Peppers, Wine, Beer or Sparkling Water, then walk to the theatre to enjoy the show.
6:45pm — Movie Premiere at Cinema Village, 22 East 12th St.
8:30pm — Return to Jimmy's for an Afterparty, featuring panel discussion with Filmmaker Kristin Canty, Chef Jimmy Carbone, Angela Davis of Weston A. Price Brooklyn chapter, Sarma Melngailis, Owner of Pure Food and Wine Restaurant*, Max Goldberg of livingmaxwell blog.
Afterparty refreshments: Drink specials and complimentary appetizers.
More details about the party here.
And, yes, you can share this invite! Please pass it along, even those who can't make the party may go see the film at one of the other showtimes!
This event is nearing the end of the held over premiere in NYC of Farmageddon. If you can't make this event, tickets are available from the Cinema Village box office for two daily shows, now thru June 21, showtimes, 1:30pm, 6:45pm.
Kristin Canty's son was healed of multiple allergies by farm fresh foods, among them raw milk. When she heard of the armed raids and seizures taking place on family farms she was horrified. And knew she had to do something about it. In this enthralling film, Canty lets the small farmers tell their stories.
Click here for more details and reviews.